BMW 3 SERIES OVERVIEW.
Sporty, reliable, and successful: For over 40 years, the BMW 3 Series has stood for dynamic driving pleasure like no other vehicle. Thanks to former BMW head of design Paul Bracq, emotions and joy of driving found its way to the middle-class — qualities the BMW 3 Series epitomizes up to this day. With the BMW E21 in the 1970s, he laid the distinctive foundation for an unprecedented success story. Today the success of the BMW 3 Series is one of the reasons that BMW is the leading manufacturer of premium vehicles.

Over seven generations to date, the BMW 3 Series has been continuously improved and refined into a vehicle that represents sportiness in the middle class like no other. Not only were aspects such as design, dynamics, and individuality considered in this process, but the motorization as well. In-depth research has made the lively engines of the BMW 3 Series ever more economical and lower in emissions.

From the classic Sedan to the wagon marketed as the Touring, to the Coupé and Cabrio and the 3-door compact, the BMW 3 Series has become a favorite for all age groups. Striking a balance between agility, functionality, and safety, all models in the BMW 3 Series are popular to this day. The versatility of this car fascinates consumers and trade press alike, which is also reflected in dozens of accolades. One reason is undoubtedly the BMW 3 Series' consistently sporty character, which has been refined further in each generation of the vehicle.

Read more
Passion wins: with more dynamics, more emotions, more innovations – the BMW 3 Series Sedan brings inspiration to every journey. Like no other car, it embodies the concept of a sports sedan. Now in its seventh generation, with even more power, efficiency and individuality. Supplying the appropriate forward thrust are powerful 6-, 4- and 3-cylinder engines with state-of-the-art BMW EfficientDynamics technology. The result is a Sedan with impressive dynamics and low fuel consumption – and as the highlight: 2 models of the BMW 3 Series Sedan* with a plug-in hybrid system that combines a 4-cylinder petrol engine with innovative BMW eDrive technology. In addition to all this, the intelligent and rear-wheel-based BMW xDrive all-wheel drive system ensures driving pleasure on every road, on every bend and in every driving situation.
* BMW 330e xDrive available from 07/2020. Data is preliminary.

The BMW 3 Series Touring invites you to discover the world: it blends versatility and innovative technologies for a sporty and confident appearance. Whether family holiday, weekend trip or shopping tour - no challenge is big enough for it. Its BMW TwinPower Turbo petrol and diesel engines offer maximum performance and driving dynamics with highly reduced fuel consumption.

As the very first BMW Touring with plug-in hybrid drive system, the BMW 330e and 330e xDrive* are already driving tomorrow's dream today and combine maximum driving pleasure with significantly reduced CO2 emissions. This is made possible by the pioneering electric drive concept BMW eDrive, which impresses with its remarkable driving dynamics - and a purely electric range of up to 65 km, which can be driven completely emission-free.
* Available from 07/2020. Data is preliminary.

A versatile character full of ideas and destinations: with its sporty design, its exciting dynamics and its generous space, the BMW 3 Series Gran Turismo brings together an unique vehicle concept. The coupé-like roof line emphasises its unmistakeable and captivating design. The BMW 3 Series Gran Turismo: Expressive. Versatile. Fascinating.

Whether you are looking for a used or new BMW 3 Series vehicle – here you will find all the information, test reports and offers for financing and leasing the current BMW 3 Series models – and, of course, a dealer for your test drive as well.
Read more
4 POINTS FOR THE BMW 3 SERIES.
01

Unparalleled driving dynamics

02

Sharp design fulfills the desire for pure joy of driving

03

Exceptional vehicle concept

04

Plenty of room for an active lifestyle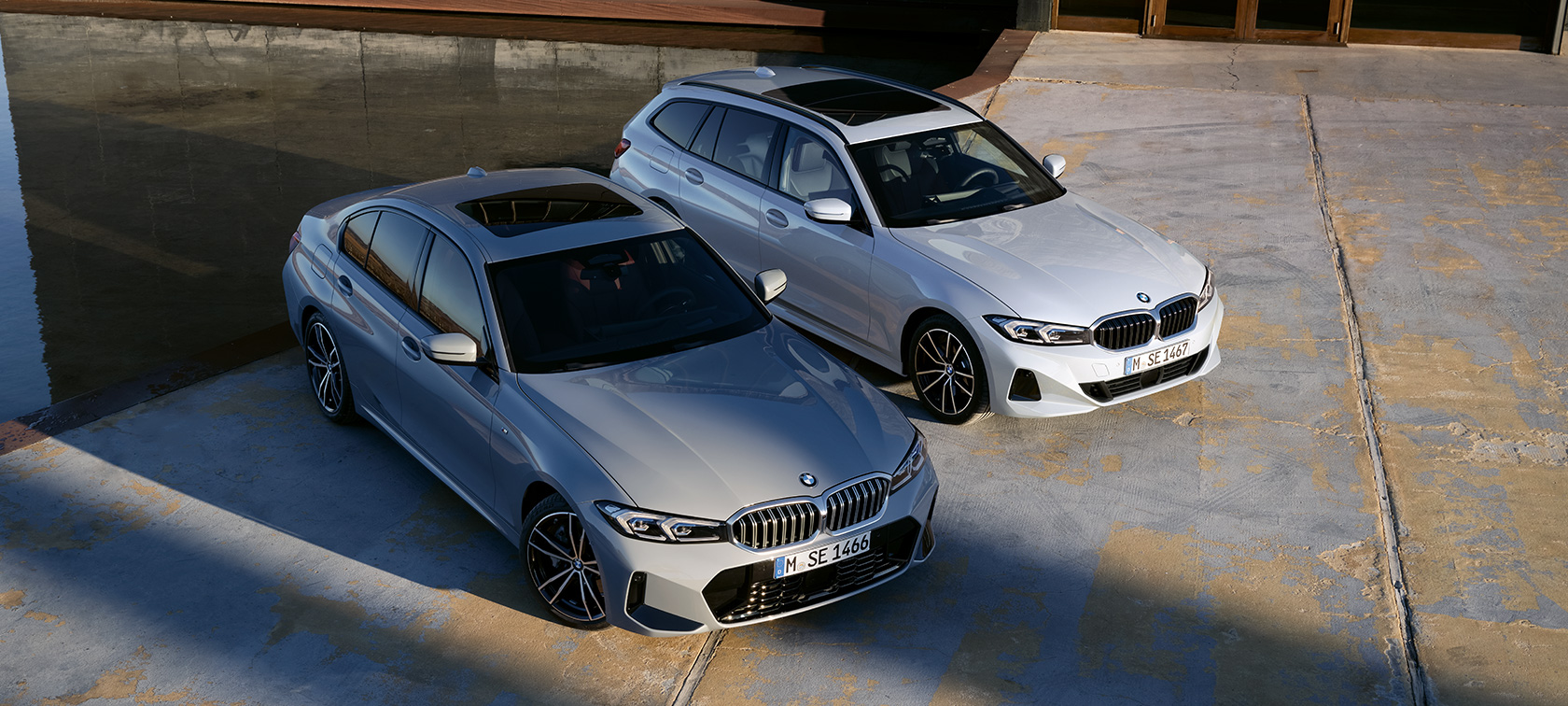 OVERVIEW OF THE BMW 3 SERIES' HISTORY.
​
Fuel consumption and CO2 emissions.
BMW 3 Series Sedan:
Fuel consumption in l/100 km (combined): 7.3–1.5
CO2 emissions in g/km (combined): 167–35

BMW 3 Series Sedan M Automobiles:
Fuel consumption in l/100 km (combined): 7.3–5.3
CO2 emissions in g/km (combined): 167–139

The information on fuel consumption, CO2 emissions and energy consumption has been determined in accordance with the prescribed measurement procedure VO (EU) 715/2007 in the version applicable at the time of type approval. The figures refer to a vehicle with basic configuration in Germany and the range shown considers optional equipment and the different size of wheels and tires available on the selected model.

Further information about the official fuel consumption and the official specific CO2 emissions for new passenger automobiles can be found in the 'New Passenger Vehicle Fuel Consumption and CO2 Emission Guidelines', which are available free of charge at all sales outlets and from DAT Deutsche Automobil Treuhand GmbH, Hellmuth-Hirth-Str. 1, 73760 Ostfildern, Germany and on https://www.dat.de/co2

The values are already based on the new WLTP regulation and are translated back into NEDC-equivalent values in order to ensure the comparison between the vehicles. For vehicle related taxes or other duties based (at least inter alia) on CO2-emissions the CO2 values may differ to the values stated here.